+ What is Hearken?
Hearken means "listen." Our company helps news organizations listen to the public as a story develops from pitch to publication. Our unique model is called public-powered journalism.

Using Hearken's consulting services and platform, our partners generate deep audience engagement that builds trust, leads to original, high-performing journalism, yields valuable data and attracts more paying subscribers.

An annual subscription to Hearken includes expert training, consulting, our custom platform called the Engagement Management System (EMS), data reports and entry to our global community of best practices.
+ What does Hearken do?
Our consulting services help transition newsroom staff from a production-oriented mindset to an audience-focused mindset. We allow them to re-envision the public not as consumers, but as partners who have valuable insights to contribute to their work.

Our custom platform enables the public to submit questions or vote on questions they would like journalists to investigate and report. For newsroom staff, our platform becomes a centralized Engagement Management System, keeping valuable insights and data organized, exportable and ready for action. Reporters can easily get in touch with the public directly, and staff responsible for audience growth love that the public can opt-into newsletters and deeper relationships with the newsroom.
+ How can journalists and newsrooms use Hearken?
Newsrooms can use the public-powered journalism model in myriad ways, and our flexible platform can be applied to any manner of reporting:
◦ To power a general assignment series based on a subject or location: E.g., "What questions do you have about Houston, its people, or the region?"
◦ To inspire coverage for a targeted series: E.g., "What do you want to know about the education system in Boston?"
◦ To shape a daily column, segment or feed: E.g., "What would you like to ask our guest Cara Walker about her sculptures and artistic practice?"
◦ To collect great ideas for ongoing coverage by a beat reporter: "What would you like political reporter Khalid Jones to ask your city council member?"
◦ To power real life, live events. E.g., using audience questions for trivia nights, town hall meetings, live show tapings, panel discussions, etc.
◦ Our voting embeds help newsrooms validate interest in questions and story ideas before any time, money and valuable resources are spent covering those stories. Our goal is to help newsrooms know before they start a story that what they report is relevant to their audiences.

At its core, Hearken helps your organization harness the curiosity and identify information gaps of your audience so you can better serve their needs.
+ What types of stories does using Hearken produce?
The type of final media stories made with Hearken can be anything -- be it TV, web or radio stories, newspaper articles, interactive data visualizations, comic books, live events, etc.

Frequently we see the resulting stories being contextual, explainer stories about how or why something came to be. These are the types of stories that create strong engagement, travel very well on social media, and that are often "evergreen" and stay relevant for a long time, continuously attracting traffic. We find these stories don't always fit neatly into newsroom beats, and can transcend traditional editorial filters.

To see examples of stories that have been produced using Hearken, visit our roundup of partner stories.
+ What support does Hearken offer?
Unlike pure technology-based companies, Hearken subscribers get hands-on expert consulting throughout the life of their subscription. Our team of journalists will train your newsroom in how to work with the public in new ways, plan new initiatives, get you set up for successful social media campaigns and help you find paid sponsorship for your Hearken-powered work.

Additionally, partners have access to our knowledge base with articles detailing successful engagement strategies and case studies, as well as to our community of best practices where they can connect with reporters around the world who are using our framework and platform.

We also offer our team's comprehensive technical and editorial expertise for support. We're here to assist with everything from customizing embeds to perfecting question prompts to strategies for attracting new audiences via social media and live events. We're way more than a tech company.
+ How much does it cost?
Our pricing starts as low as $7,475 per year. There is a one-time setup fee for your first year.

If you're a nonprofit or a community based for profit, consider applying for the 2018 CLEF Subsidy to get 25-75% off of an annual subscription. This fund is limited, so please apply by February 16th, 2018. Check out the webinar on CLEF for more information.
+ How do Newsrooms pay for their Hearken subscription?
Hearken benefits many aspects of a newsroom, and can come out of one or many set budgets.

We often see organizations use:
◦ Editorial budget because Hearken leads to high-performing stories
◦ Systems budget because Hearken creates digital efficiency
◦ Marketing budget because Hearken generates new leads for fundraising and subscriptions
◦ Events budget because Hearken can be harnessed for live events

We've seen many newsrooms find outside money, too via:
◦ Advertising & sponsorship for a Hearken-powered series
◦ Grants awarded for innovation, new media and audience engagement initiatives
◦ Major Donors

If you're a nonprofit or a community based for profit, consider applying for the 2018 CLEF Subsidy to get 25-75% off of an annual subscription. This fund is limited, so please apply by February 16th, 2018.
+ Who is currently using Hearken and how are they using it?
Hearken is all about process; the final products newsrooms create can be anything. Our tools are currently being used by broadcasters (TV and radio), newspapers, pure digital news outlets, in reporting project collaborations and by organizations in six countries on four continents. Many newsrooms are using Hearken to power a general assignment series, some are using Hearken for targeted series, daily segments and reporting collaborations with outside organizations.

Our toolset allows journalists to use Hearken in multiple ways within one newsroom and with one subscription. Check out some stories produced with Hearken here.
+ How often do newsrooms need to make stories with Hearken?
There are no requirements or limitations on how often journalists should produce stories with our tools. We can say conclusively that producing stories with frequency and regularity leads to more audience engagement. We recommend at the very least one story per month.

One reporter using the tools will produce fewer stories than if it's a tool employed by the entire newsroom. We encourage newsrooms to experiment in using Hearken in various contexts throughout the organization. Public-powered journalism is a strategy your entire newsroom can benefit from.
+ How do newsrooms staff Hearken?
Every newsroom staffs Hearken differently. It's a bit like asking how to staff for social media. Hearken is a tool that can be used in various contexts. For newsrooms that run special series based on Hearken, many have one editor, reporter or producer that oversees their Hearken series and enlists other reporters to cover stories. Some organizations have a dedicated staff of multiple people (usually an editor, and one or two producers) that work on producing Hearken-powered content more consistently. It's not necessary to hire additional staff to use Hearken. The largest adjustment is approaching stories from a different starting point and using Hearken to support that process.
+ Is Hearken mobile-friendly?
Indeed! Our EMS works seamlessly with mobile-friendly websites. Our embeds are responsive and scale to the website they're hosted on and the screen they're being viewed on.
+ Does Hearken integrate with social media?
Our embeds can be placed in Facebook Instant Articles and our partners use direct links to Hearken embeds on Twitter.
You may wonder: "Why not just use Facebook to implement public-powered journalism?" There are so many reasons, and you can read all of them here.

In short, Hearken helps draw traffic and engagement to your website and bring audience relationships into your management system. This way, the valuable questions, votes and emails collected aren't owned by and lost to Twitter and Facebook.

Social media is still a fantastic tool to stoke engagement with Hearken. Many organizations use social media to prompt audiences to ask questions and vote by posting screenshots and links to their embeds and pages.

Newsrooms can configure Hearken to add social media share buttons to the embeds where audiences vote for their favorite questions or submit their own. That way audience members can encourage their friends and networks to participate.
+ How do I get started and how long does it take?
We can get you up and running as soon as you're ready! We are not self-service because using Hearken effectively requires working with the public in a new way, and that part has nothing to do with technology. So we prepare you with training, consulting and getting your newsroom ready to work in an exciting new way.
If you're curious about how Hearken could work in your newsroom get in touch. Once you decide to start a subscription, we'll set up two calls:
Consulting call: we'll help you to craft a plan to hit the ground running.
Tech call: we'll give you a tour through the platform and get you ready to launch.
After that we are there to help with training and consulting throughout the life of your subscription.
+ Do I need a web developer or technical expertise to use Hearken?
Absolutely not! Hearken's platform is designed to be easily used by anyone and everyone in a newsroom. Our intuitive EMS is ready to use right away. For those who know HTML and CSS, we offer advanced options for look and feel.
We also have comprehensive technical documentation to help those who don't consider themselves tech savvy and are always a phone call or email away. We're happy to guide you or set up a call and screenshare.
Unlike open source software, we host and maintain the system and take care of all of your related technical needs so you can focus your valuable resources on what you're meant to do: report.
+ Do I need a logo and a clever name to launch a Hearken series?
Nope! When you are configuring your Hearken tools you can call them whatever you would like. A lot of newsrooms have created special series based around our framework and named them something fun (E.g., Local Wonder, Curious City), but many use their organization's logo and go live without creating a custom brand.
You can also launch Hearken tools on your website with your newsroom's logo while you work to design original branding for a series. We encourage this method because it allows you to start engaging your audience immediately and start collecting questions for your series without delay.
+ What exactly does the Hearken technology do and how does it work?
Upon subscribing, you're given access to your Engagement Management System (EMS). It's used to configure custom embeds that can be embedded wherever you'd like on your website, no matter your content management system (CMS). These embeds your audience to take actions such as submitting questions, voting on which stories they'd like you to cover, and collect email addresses for newsletters and subscriptions. Your Hearken EMS is where you can manage this audience engagement. You can create one or many different embeds, all of which send the data they receive back to your Hearken Engagement Management System (EMS) for you to view and manage.
+ Do I have to both collect questions and allow the public to vote?
The Hearken tools can be used together or separately. If you are simply interested in collecting questions from your audience but do not want to give them the option to vote, you don't have to! Likewise you can give your audience the opportunity to vote (on their story ideas or yours) without giving them the option to submit questions, too.
Note: Hearken allows newsrooms to select which questions will go up for a vote. It is not a free-for-all in which any question submitted can win and be assigned. You maintain editorial control over which stories you'll consider reporting.
+ Do you offer tools for individuals?
At this time Hearken is designed for enterprise-level newsrooms, organizations, and projects. We'll be developing tools for individuals in the future. Sign up for our newsletter (at the bottom of this page) to stay in touch about future product developments!
+ I'm interested, but not quite ready. How do I stay in the loop?
Sign up for our newsletter (at the bottom of this page) for future updates about Hearken and new product developments.
Hearken Means "Listen"
News organizations use Hearken to meaningfully engage the public as a story develops from pitch through publication.
Our unique model is called public-powered journalism.
Using Hearken's consulting services and custom platform, our partner newsrooms:
cultivate deep audience engagement

create original, high-performing content

collect valuable data, emails and insights

generate new revenue streams through user-acquisition, advertising and underwriting
PUBLIC-POWERED Story Cycle
We've flipped the traditional model on its head, enabling journalists to know before publishing that their work is relevant.
By listening to the public from story inception to completion, newsrooms can understand how to truly serve the needs of their audiences without resorting to guesswork, gut feel or flawed metrics.
Hearken helps newsrooms harness the universal quality of curiosity: collecting the public's questions as to what they don't know that they'd like a reporter to cover. Newsrooms have the option of curating the best questions up for a public vote and working with the public while reporting.
This process ensures journalists spend their limited time and resources generating the most useful content possible.
An informed citizenry is the bedrock of democracy, and the purpose of journalism. So why not let the citizenry weigh in directly on what information they need?
Every Hearken subscription includes: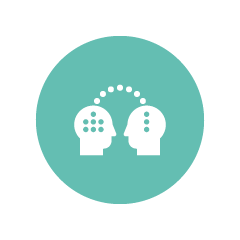 While it's tempting to believe a tool is the answer to better audience engagement, tech is just one part of the solution.
Lasting transformation comes from changing the way journalists conceptualize the audience. We help newsroom staff transition from viewing the public as consumers to partners. We provide personalized and targeted consulting from our ace team of journalists throughout the lifetime of a Hearken subscription. We help newsrooms launch new projects and series, as well as spread public-powered journalism as a strategy throughout the entire organization.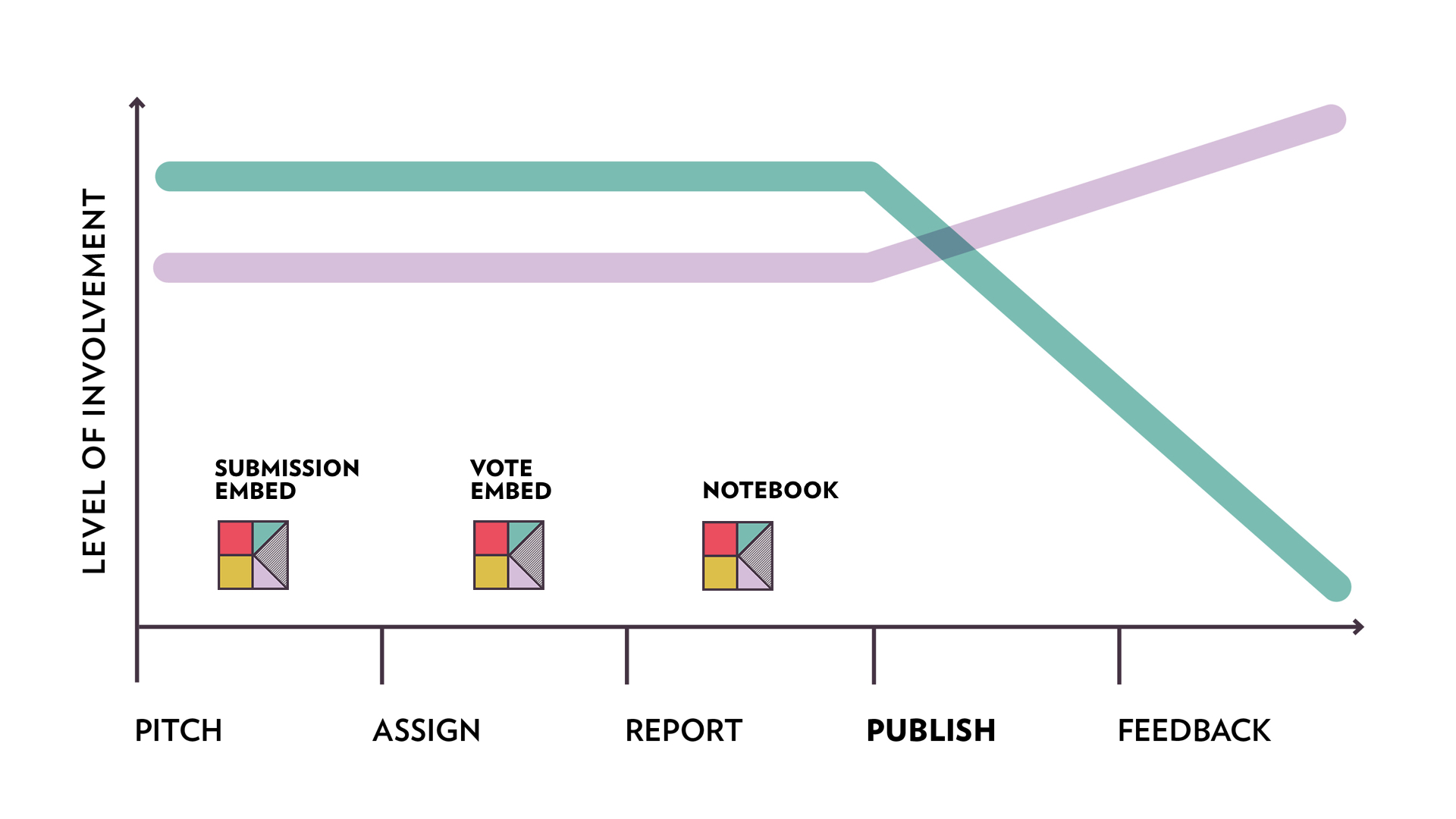 Once journalists are ready to think a little differently, our streamlined cloud-based platform comes into play. We've built a custom toolset for cultivating, managing and acting on the public's questions and insights. We call it the EMS. It's short for: Engagement Management System.
The EMS keeps newsrooms from losing valuable public input in endless Twitter feeds and tucked-away corners of Facebook. It centralizes data and collects audience emails, allowing you to directly translate participation to user acquisition.
The Hearken platform offers a variety of interaction points between the public and newsroom, ensuring that all editorial decisions can be made with the most complete information possible at the right time: when decisions are being made.
Additional embeds can display the questions and stories you're investigating, and what others have asked, giving the public greater transparency into your process.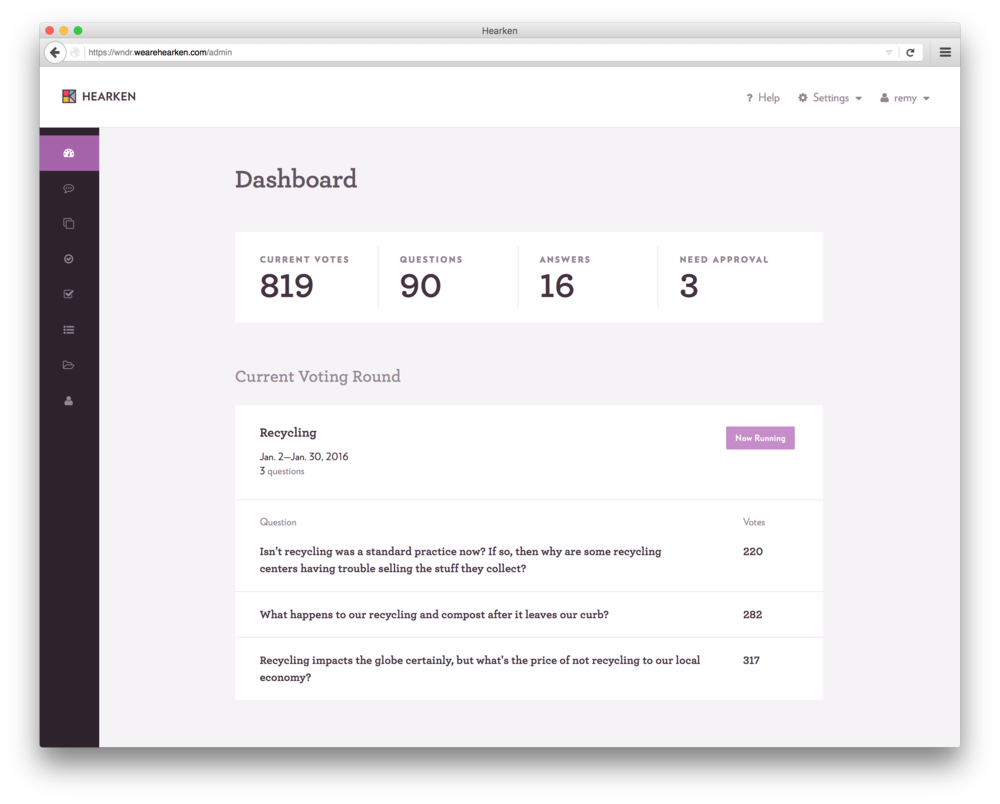 "Hearken has allowed us to engage with our audience on a deeper level, making them feel involved in the reporting process in way that makes sense for all of us. The Hearken platform keeps the entire process organized, running smoothly and looking good - which for a small shop is HUGE."
Juliet Fromholt, Host + Deputy Operations Director, WYSO
The Engagement Management System centralizes all engagement for ease of action and collaboration within the newsroom.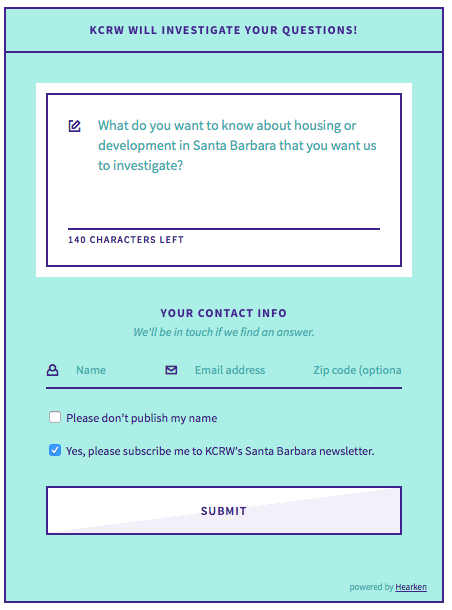 "The Hearken platform is a very useful tool. It enables us to work together on one story with people from our website, radio station, tv station and newspaper because all of the input from our audience is collected in one place. Plus, the embeds can be personalized to a great extent to give them a BRUZZ vibe."
Elfi Thoelen, Content Manager + Webmaster, BRUZZ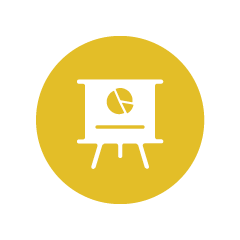 Custom progress reports provide specific, actionable recommendations to maximize engagement, lead generation and user acquisition via Hearken's public-powered process and platform.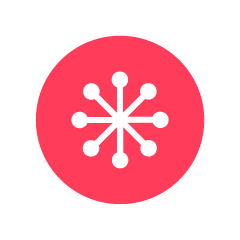 COMMUNITY OF BEST PRACTICES
Hundreds of journalists around the world using Hearken connect through an online community. Here they share experiments, successful editorial and events strategies, and support one another in shifting the cultures of their newsrooms toward a public focus.
AWARD-WINNING CONTENT
Turns out the public has award-winning questions! Our partners have been nominated for an Emmy and received numerous honors, including regional Edward R. Murrow awards (many for innovation and investigative journalism), Associated Press awards, and awards from local press associations.
RECORD-BREAKING PERFORMANCE
Our partners are finding Hearken is powering their top stories of all time, shattering records for visits, page views, social shares and increasing time on site.
Hearken powered:
The top 3 stories in 2016 on WAMU.org

WUWM's top-performing story of all time to date

KRCC's top-performing story of all time to date

Top-performing local stories on NPR One
REVENUE-GENERATING ENGAGEMENT
Hearken helps newsrooms connect editorial goals to bottom-line business objectives.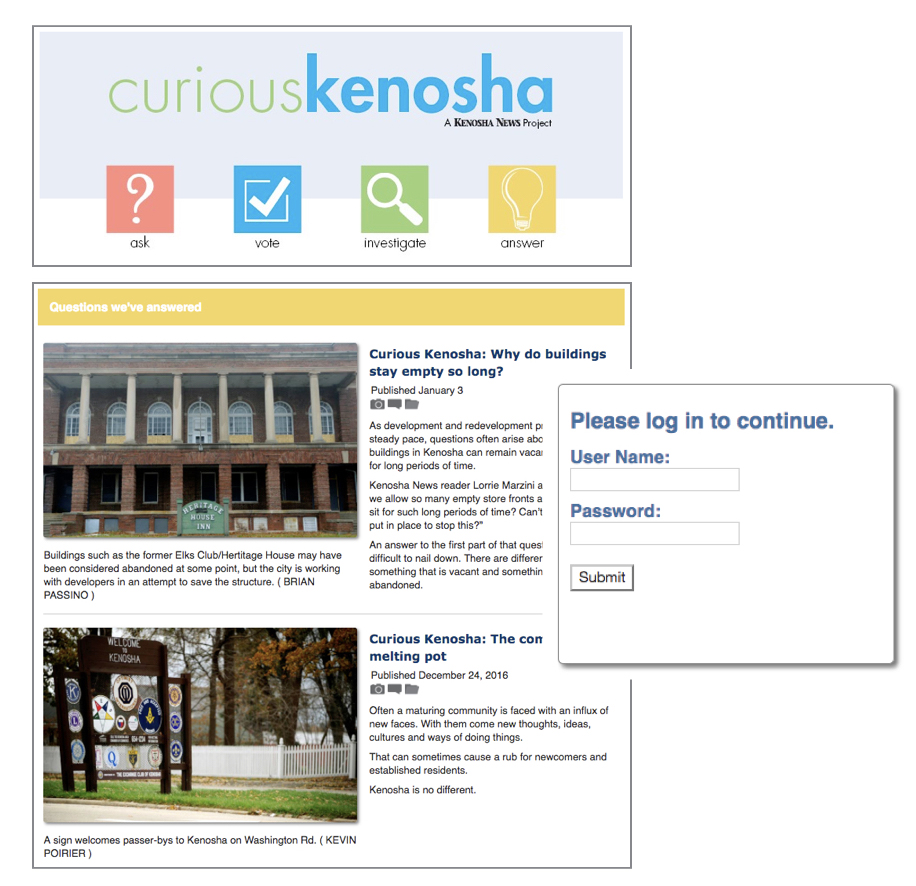 Value-add for paying subscribers
Partners with paywalls or log-in systems use Hearken to acquire new users by incentivizing participation and resulting content before or after logging-in.
Hearken can also connect to a newsroom's CRM system (Customer Relationship Management), sending emails directly to subscriber lists for increasing newsletter subscribership and membership.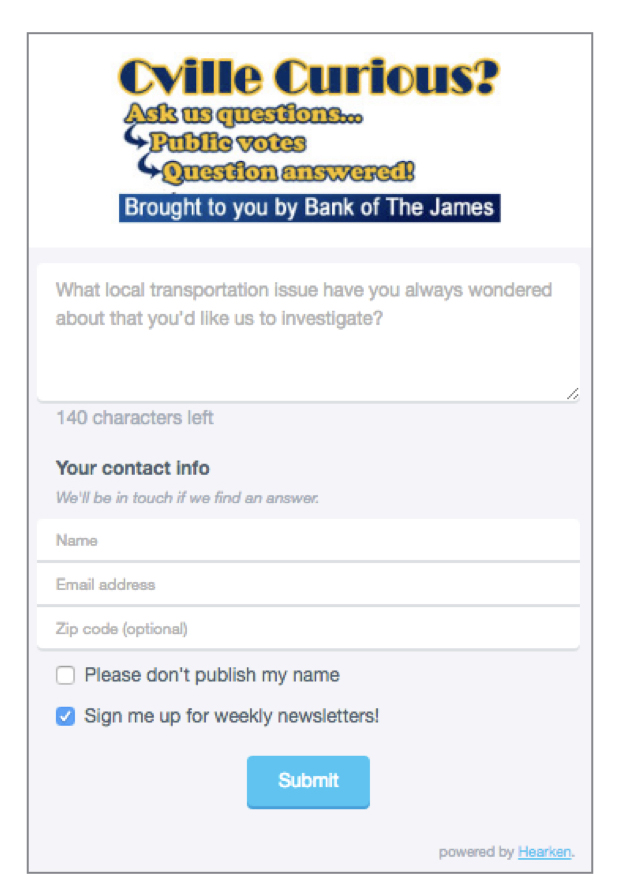 VALUABLE ad placement on platform
Our partners at Charlottesville Tomorrow commanded 6x their standard ad rates for ads that appeared on their Hearken embeds. Why? Because these ads are seen where the public is engaging, and embeds are placed throughout the site, giving advertisers more exposure.
A FEW OF OUR 100+ SATISFIED CUSTOMERS
press & praise for hearkeN
"While news organizations are continually looking for better ways to interact with their audiences ... the opportunity for readers or listeners to speak to journalists before they publish a story is rare. Hearken is particularly useful for small news organizations without the internal resources to develop social engagement."
"As a hater of the comments section and a lover of more audience-focused journalism -- there's nothing more corrosive to journalism's future than reporters writing for other reporters -- I found Brandel's (Hearken's CEO) argument fascinating and convincing.
Also, journalism at its root is about finding answers -- or trying to find out answers -- to questions average people are wondering about. Why not, you know, try to develop a process by which you can actually solicit the ideas of your audience about what it would like to know more about?"
"People trust information that truly includes them ... Brandel (Hearken's CEO) goes so far as to call what Hearken does "public-powered journalism" — I don't think information gathering can be more inclusive than that."
Journalism industry leaders are weighing in on Hearken, too.
OUR WRITINGs: Thoughts + theory on engagement
Our writings on audience engagement and the evolution of journalism provide new perspectives on an industry in flux and are being added to j-school syllabi around the world. Check out our Medium publication for industry insights, meet our partners, and read case studies of what our newsrooms are learning and achieving.
Here are a few of our "greatest hits":